Description
LED UVC Light 5W
High-intensity UVC ultraviolet bacteriostasis.
5V input rechargeable, Charge 1H and last 2H
Eliminate peculiar smell in narrow and confined spaces.
No ozone, much safer
Portable, swipe back and forth 5 times, fast disinfection
IR remote control, switching and timing (3 gears timing control)
Widely used for high-level disinfection of living room, bedroom, bathroom, kitchen, clothing, toys, shoe cabinet, wardrobe, storage box, backpack, car, pet nest, and other small space areas
Warning :
When it's working, do not expose your eyes and skin under the bulb!
When sterilizing a narrow space, hang it at a fixed position, do not put irrelevant objects around!
When mobiledisinfecting, keep a close distance about 2inch, and sweep at a uniform speed for 2 seconds.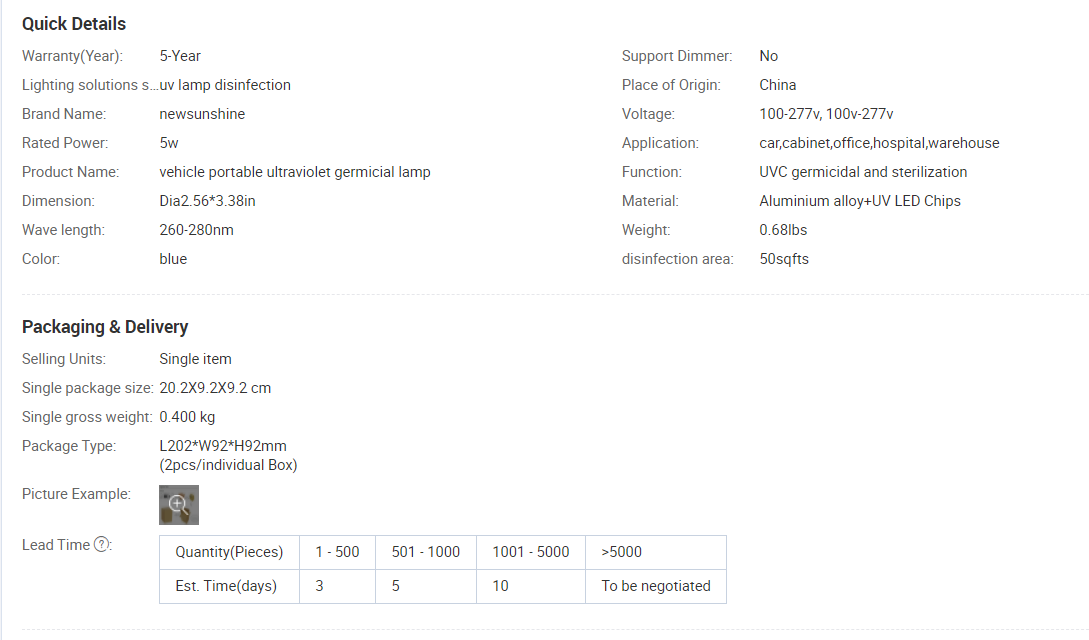 LED UVC Light 5W Product Description
uvc light sterilizing lamp portable LED uvc germicidal lamp 5w 254nm uvc light rechargeable uv disinfection lamp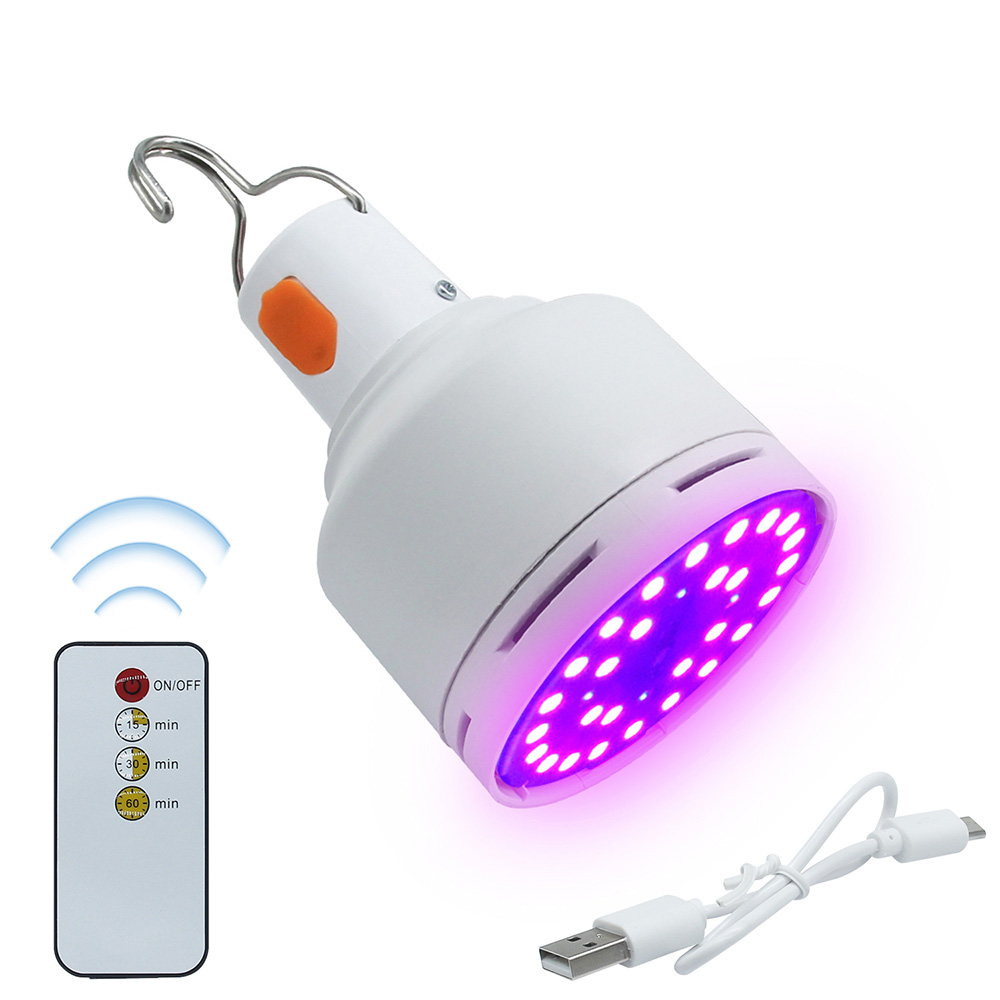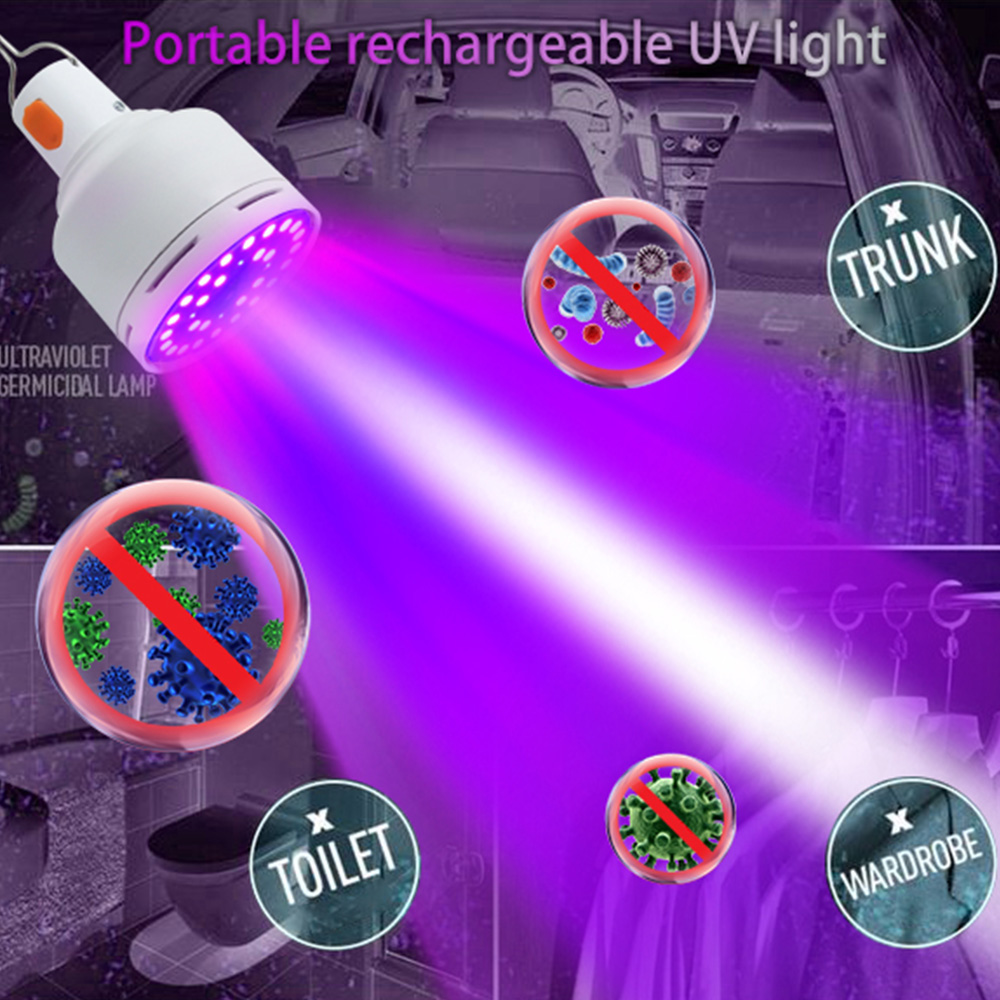 ▪ UV disinfection lighting technology. This germicidal light can offer 30 times power ability of sunshine. It can work for bed, room space, object surface or any other places that you need to disinfect!
▪ No Bad Ozone Smell: There's no Ozone Smell when germicidal lamp work. (WARNING: Do not let your eyes and skin expose under the germicidal light when it is working! You must leave your room, (include pets). And you also need to turn off the bulb before you approaching it.)
▪ Convenient Disinfection: You can smell the special smell when the light light up. This smell is come from harmful burnt particulate by the UV ray in the air. It's normal working phenomenon just like the sunlight in summer.
▪ Easy to install, Big irradiation area: Regular E26/E27 base. Very easy to install. The irradiation area up to 500sq ft.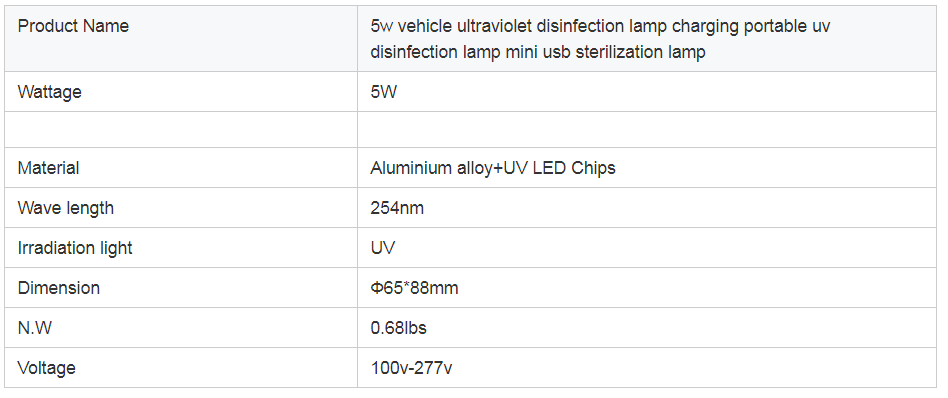 LED UVC Light 5W Specification
Features:
√ Made of high quality LED UV chips. This LED UV light bulb have up to 50000 hrs lifespan. No trouble of short life span!
√ UV light is a ideal choice for disinfecting. It can eradicate the air and help you to disinfect anything that you want to disinfect! Just like the sunshine in the summer beach!
√ Easy installation. Come with E27/E26 base. You just need to screw in and turn it on! Suitable for Home, Warehouse, Supermarket, Office..
How to Use:
1.Install the UV bulb into the wireless lamp base.
2.Screw it into the E26 socket like a regular light bulb.
3.Turn the power on.
4.Leave the room.
Instructions:
Goods surface: ( 5 mins/time ). put goods within 4 ft of the light, such as cups, bottles, toothbrushes,
shaver, cell phones, keyboards, clothes.
Small space: ( 5 mins/time ). ≤ 50 sq.ft. as shoe cabinet, drawer, toy box, wardrobe.
Small room: (15 mins/time ). ≤ 200 sq.ft. such as dog/chicken house, toilet, storage room.
Larger room: (15-60 mins/time ). ≤ 400 sq.ft. kitchen, living room, bedroom.
Suggested Usage Time:
Below 200 square feet: 15 minutes

200-400 square feet: 30 minutes

400-600 square feet: 60 minutes
Note:
1. When using the light, people and animals and plants must leave the scene.

2. After it works, ventilate for 30-45 minutes.

3. Normally, twice a week, about 30~60 minutes each time.

4. Recommended to replace the lamp regularly.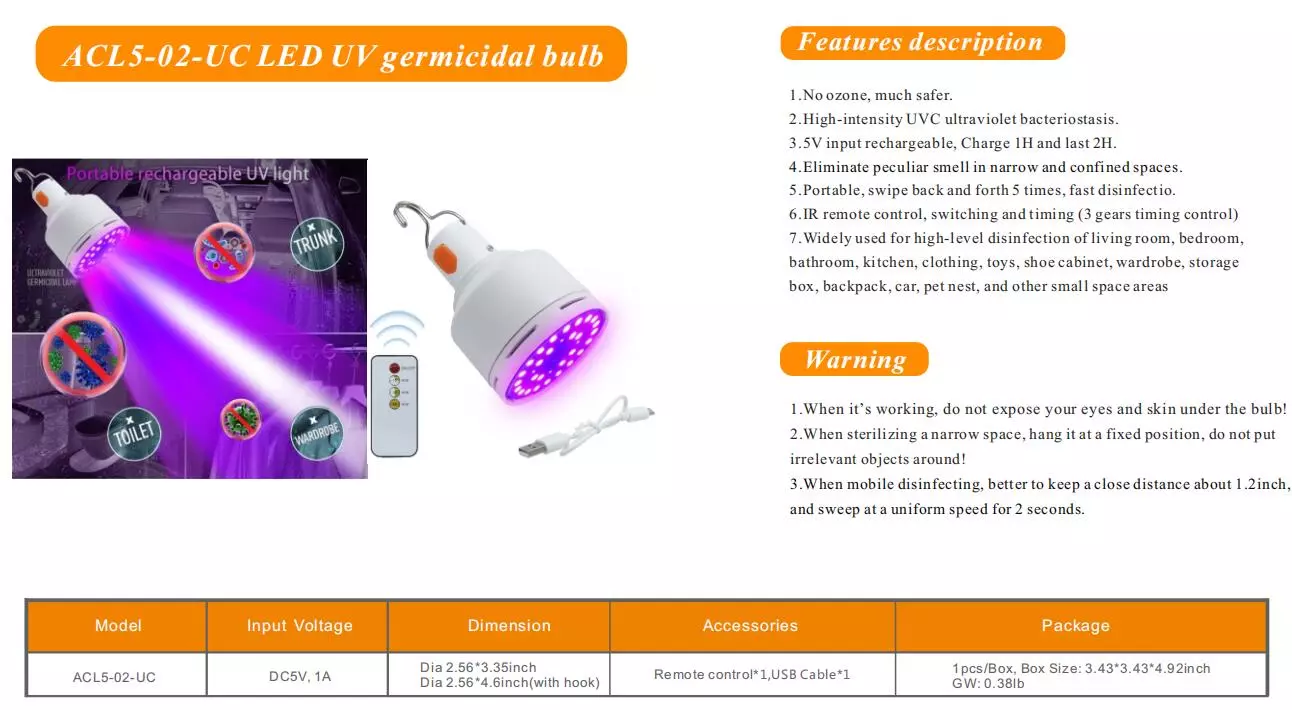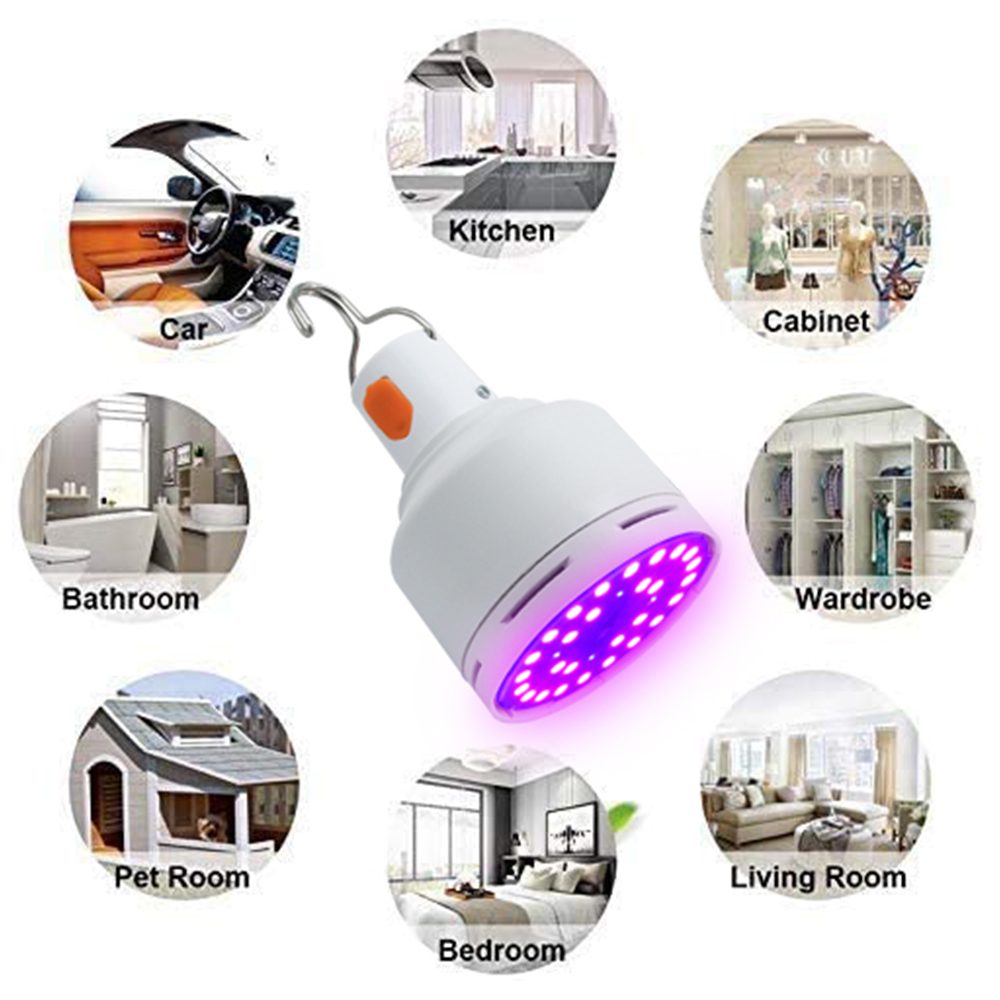 Why choose UV LED lights?
One major problem with traditional UV lamps is the presence of mercury. Mercury, as we know, has grave environmental consequences, and a cost-effective, mercury-free solution has always been the target of researchers around the globe. While a traditional UV lamp has around 20-200 mg of mercury, UV LED lights have none. Additionally, as compared with traditional lamps, the energy consumption and heat generation of UV LED bulbs is significantly less. 
What is the difference between traditional UV lamps and UV LED sources?
Traditional Arc lamps use an electric arc inside a mercury gas to excite atoms, which then decay, emitting photons. Microwave lamps excite the gas via microwave emission. Xenon lamps use Xenon gas (no mercury) but can only be "flashed." UV LED Semiconductors (UV LED) emit a narrow bandwidth of light at the junction where doped semiconductor positive holes join with negative electrons when voltage is applied.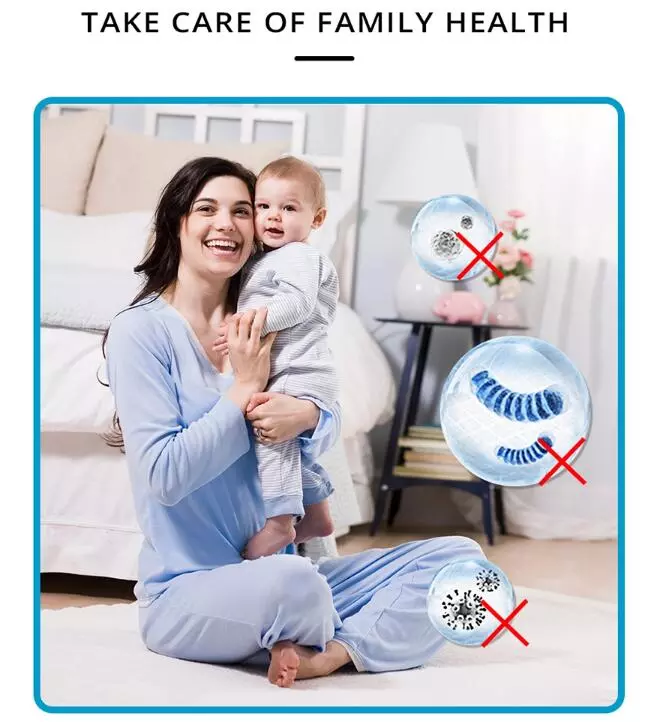 5w vehicle ultraviolet disinfection lamp charging portable uv disinfection lamp mini usb sterilization lamp